Value #6: We Strengthen Our People So That They May Walk a Good Walk
qʷiq̓ʷild čəɬ tiʔiɬ ʔiɬʔaciɬtalbixʷčəɬ dxʷʔal kʷi haʔɬ sʔibəšs.
Mud Swallow's House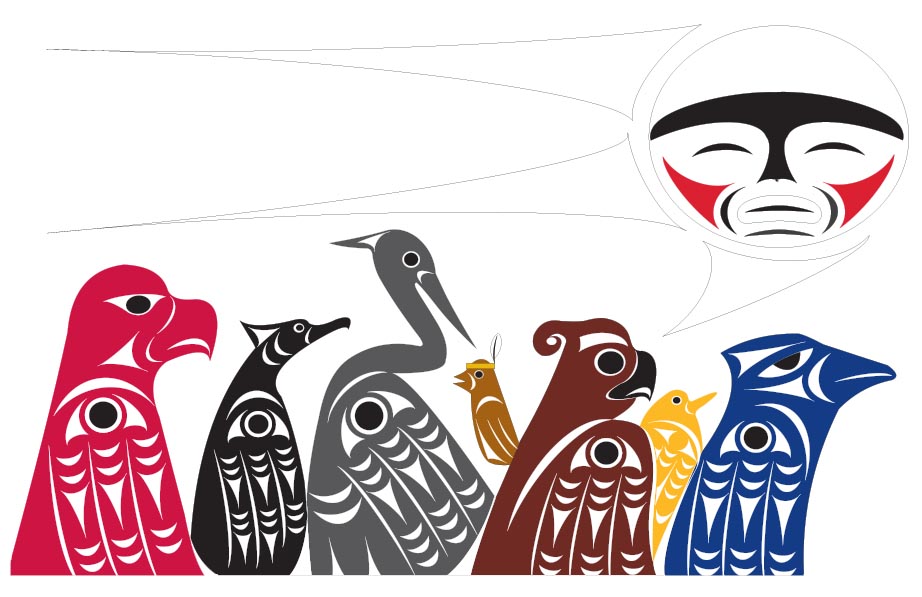 Told by hayalc̓aʔ, Harriette Shelton Dover.
A long time ago, the Creator arranged for everyone to have a home. Time passed. He looked down and he observed – the birds were sleeping everywhere! They didn't have houses.
Now the Creator came, and as he came, as he traveled, the earth was brightly lit. No one could see his face, it was so brightly lit as he traveled from the east.
He arrived. Now he invited every species of bird, all of these who fly: "Come on, you folks! Come on, raven, crow, pigeon, crane, eagle, blue jay, ducks, night hawk, robin, thrush, hummingbird, seagull, grouse, barn owl, hoot owl. Come on, you folks!"
"I shall show you how to make your houses."
So they all came, eager to learn. They sat and listened respectfully – all but this one!
This one just kept on talking. Her friends would advise her to stop, but she would just say, "Oh, why should I listen? Anyone knows how to build a house."
Everyone worked now, fixing where they shall be living – except this one.
She is dressed up, dolled up in her finery. She has on a hat with a pretty feather. She wears a necklace as she visits around, talking.
In vain they try to stop her. "You had better fix your house!" No, she just keeps talking to everyone.
Then they hear: the Creator is returning, they say, and he wishes to see how they have built their homes.
Now she got worried. "What did he say to me? How did he say for me to fix my house? Help me, my friends!"
"Oh, get away. We won't help you. You didn't listen. Get away! We are working, and you are just disturbing us. Get away!"
Now she frantically ran around. "What shall I do? How can I fix a house for myself?" The feather on her hat broke and collapsed. Her necklace broke and fell all over the ground.
Now as she ran hither and yon, she came to the river and she felt around. "Oh, maybe I can use this to make my house." She gathered this mud and she put it up in the tree. It just fell as it broke apart. Again she fixed it, and it just fell down.
Then she took some little sticks and put them with the mud, and she again put it where she put it, and there it is.
The Creator arrived, observed how the birds had followed his instructions, and he praised them. "Oh, how well you have all done."
He came to this one. She was crying as she looked at hers. Then he looked at it, and he decreed: "Since you did not listen to me, your house will be like this forever from now on!"
This is the house of Mud Swallow as you see it yet today. She lives in the house she made out of mud because she did not listen to the Creator a long time ago!
So you had better listen well when someone is talking to you, giving you advice and instructions, lest you too shall be like Mud Swallow and have to live in a mud house! That is the end.
Artwork by Jason Gobin. Lushootseed provided by Tulalip Lushootseed Department.